Mental Health First Aid is an internationally recognised training course that teaches people how to spot the signs and symptoms of mental ill-health and provide help on a first aid basis. MHFA won't teach you to be a therapist, but just like physical first aid, it will teach you to listen, reassure and respond, even in a crisis.
The course looks at many aspects of Mental Health including depression, anxiety, suicide and psychosis. This course is quite participatory so you need to consider your ability to cope with topics that may be distressing. On a more positive note, we also look at the bigger impact of Mental Health on individuals and societies and consider ways people can be proactive and maintain good mental health. There is always a message of hope in this course.
Delegates should consider their ability to cope with stressful emergency situations and should be prepared for the potentially emotionally demanding element of this course.
Please note that our Mental Health First Aid courses are available for group bookings only.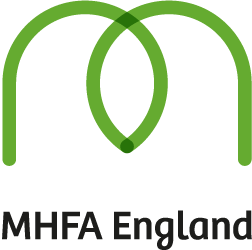 Duration
---
This course is delivered over 2 days. It can also be delivered online over 4 sessions each being between 2 and 2.5 hours (further activities will need to be completed after the online sessions).
Certificate
---
On successful completion of this course, you will receive an e-certificate from MHFA England. Delegates must attend all sessions of this course in order to be certified as a Mental Health First Aider.
Who is Mental Health First Aid for?
This course is designed for anyone over the age of 19 who would like a deeper understanding of mental health and the factors that can affect well-being.
This course is of particular relevance to those people who are most likely to encounter others experiencing mental health issues or crises. Like physical first aid training, this course is designed to provide you with the tools and confidence to support someone until more expert help can be found. You may be working in a school, a caring environment, employing others, volunteering or working where you come into contact with employees or members of the public who need immediate mental health support.
What will I learn on the Mental Health First Aid course?
A deeper understanding of mental health and the factors that can affect people well-being, including your own
Practical skills to spot the triggers and signs of mental health issues
Confidence to step in, reassure and support a person in distress
Enhanced interpersonal skills such as non-judgmental listening
Knowledge to help someone recover their health by guiding them to appropriate support
Research and evaluation shows that taking part in an MHFA course:
Raises awareness and mental health literacy
Reduces stigma around mental ill health
Boosts knowledge and confidence in dealing with mental health issues
Promotes early intervention which enables recovery
Assessment
There is no formal assessment for this course.