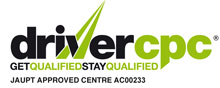 All professional bus, coach or lorry drivers must complete 35 hours of periodic training every 5 years to keep their Driver Certificate of Professional Competence (Driver CPC) up to date. 
Who is it for?
This course is designed for professional bus, coach or lorry drivers.
Certificate
On successful completion of this course, you will receive a JAUPT approved Driver CPC certificate for the module and hours completed.
Duration
This course is delivered over 1 day.
What will I learn?
The 5 point plan for incident management and chain of survival
The primary survey position
CPR technique
The secondary survey and recovery position
Choking procedures
The recognition and treatment of bleeding and shock
Bandaging
Injury statistics and the cost to industry, the NHS and the individual
Types of injury at work:
The causes of injury
Manual Handling Regulations 1992
Health & Safety Regulations 1999
The structure of the back
The correct lifting procedure
MHOR guidance
Lifting zones and weight limits
The 6 point drill
Risk factors:

The load
The individual
The task
The environment
Assessment
There is no formal assessment for this course.