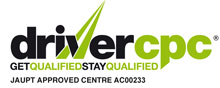 All professional bus, coach or lorry drivers must complete 35 hours of periodic training every 5 years to keep their Driver Certificate of Professional Competence (Driver CPC) up to date.
Who is it for?
This course is designed for professional bus, coach or lorry drivers.
Certificate
On successful completion of this course, you will receive a JAUPT approved Driver CPC certificate for the module and hours completed.
Duration
This course is delivered over 1 day.
What will I learn?
Why we have drivers' hours laws

The importance of working to the regulations:

The legislation

Powers of officials, penalties and liabilities of operators

The OCRS

The different sets of rules and which apply when:

The basic principles of the rules

EU Regulations 561/2006

Exemptions and derogations, both PCV and HGV

UK domestic rules

AETR rules

The European regulations:

Breaks during a driving day & daily rest periods
Maximum driving hours in a day, a week and a fortnight
Journeys overnight on trains and ferries
Double manning
Weekly rest requirements
Emergencies and delays when you cannot stop immediately for a rest or break
The '12 day rule' for PCV drivers

Working Time Regulations:

Maximum working time

Average working week

Definitions of Working Time

Periods of availability

The working week and breaks

Night work

Record Keeping

UK Domestic Regulations for both HGV and PCV drivers:

Maximum hours
Rests and daily rest periods
Emergencies

Mixed Driving (Under different rules in one day or one week):

Which rules take precedence
When is driving not driving
Records that have to be kept

Drugs and Alcohol Awareness

What is alcohol?
Are you okay to drive?
How to calculate units of drink
Popular myths
Categories of drugs: illegal, prescription, over-the-counter
New laws being introduced and roadside testing
Company drug and alcohol policies
In-work random testing
Vehicle interlocks and random rolling retests

Tiredness, Diet and Lifestyle

Dangers and consequences of tired driving
The causes of tiredness
Shift working patterns
Sleep apnoea
Food intolerance
Detecting and avoiding driving whilst tired
Micro-sleeps
Sleep inertia
Tiredness at work
The importance of a balanced diet
The importance of hydration
The importance of regular exercise
Managing your working hours
The basic work/rest cycle
The potential consequences of distracted driving
Use of mobile phones and other handheld devices
Assessment
There is no formal assessment for this course.