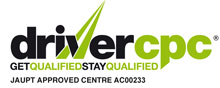 All professional bus, coach or lorry drivers must complete 35 hours of periodic training every 5 years to keep their Driver Certificate of Professional Competence (Driver CPC) up to date. 
Who is it for?
This course is designed for professional bus, coach or lorry drivers.
Certificate
On successful completion of this course, you will receive a JAUPT approved Driver CPC certificate for the module and hours completed.
Duration
This course is delivered over 1 day.
What will I learn?
UK weather – the four seasons, driving techniques needed in:
High winds
Rain and spray
Snow
Ice and black ice
Slush
Flooding
Fog
Your view, your safety
Windscreens and wipers
Windscreen wiper blades
Wing mirrors
Vehicle Checks
Safety checks
Fuel
Brakes
Use of ABS
Auxiliary braking systems
Tyre condition and pressure
Wheel alignment
Lights, markers and reflectors
Vehicle specific equipment
Be prepared
Route planning
Sources of information and advice
Survival kit
Rest stops and breaks
Diversions
Getting stuck
Defensive Driving Techniques
Road signs
Highway code
Responsibilities of HGV & PCV drivers
The importance of all round observation
High and low risk driving attitudes
Speed limits and what can lead to speeding
Route planning before a journey
Correct road positioning
Anticipating manoeuvres
Consideration for cyclists
Approaching junctions
Roundabouts
Box junctions
The danger of blind spots
Rural driving including passing horses
Traffic light sequences and filters
Level crossing countdown markers
Road studs
Stopping distances and the factors that affect them
When seat belts must be worn, exemptions and the potential consequences of not doing so.
Assessment
There is no formal assessment for this course.